Researcher
Preview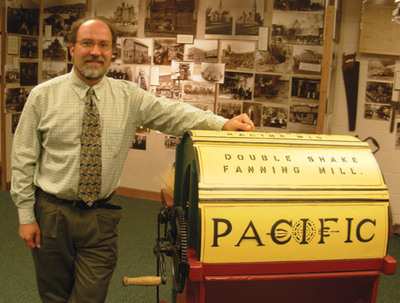 Researcher Bio
As a folk singer/songwriter in his spare time, Dan Truckey (Beaumier Upper Peninsula Heritage Center) would probably agree that the most poignant lyrics are those that reflect personal experiences, observations and emotions. So one phrase he wouldn't likely pen himself – even if Sam Cooke hadn't already beat him to it – is that opening line of Wonderful World: "Don't know much about history."
Truckey knows more than most people about history; in fact, the NMU alumnus has turned it into a career. He was hired in July 2007 as director of the U.P. Heritage Center.
Temporarily located in the Superior Dome, the center seeks to cover the unique ethnic, cultural, religious, industrial and educational heritage of the Upper Peninsula. It's a daunting challenge, but one Truckey eagerly embraces.
The center's exhibits include photo boards documenting the arrival of the early immigrant workforce and the ensuing struggle for labor rights in the mining and timber industries. Display cases contain glass bottles bearing the names of former U.P. breweries, along with preserved samples of Finnish cardamom bread and other traditional foods. Truckey is seeking alumni donations of artifacts and clothing for a future exhibit on student life at NMU through the years.
The Marquette native enrolled in Northern's political science program in the late '80s with the goal of becoming a lawyer, but found the history of politics—not the process itself—most appealing. "That's when I began to gravitate toward history as a major. My parents had instilled in me a love of history at a young age with trips to Washington, D.C., and southern battlefields. They also shared a lot of family legacies. I was interested in international and cultural history as a student. It wasn't until I started working that I came to appreciate local and regional history."
Keywords
PRIME, interdisciplinary, research
COinS