Researcher
Preview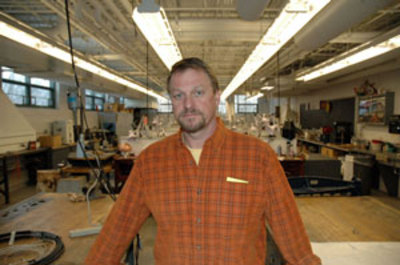 Researcher Bio
Dale Wedig
Professor
BS Univ of Wisconsin at LaCrosse
MA Iowa State University
MFA Arizona State University
Dale Wedig is a Professor of Art and Design at Northern Michigan University where he as been the Head of the Metalsmithing and Sculpture departments for 27 years. His studio work ranges in size from jewelry to architectural installations and assumes metal processes from blacksmithing, welding, casting, sheet-forming, fabrication and foundry applications. His work has been exhibited in galleries and museums throughout the United States. Wedig works out of his Upper Peninsula home surrounded by trees, lakes, rivers and ice most of the year. It is important to keep busy doing whatever it is that your hands find to do; life without labor is guilt.
Art is the physical and mental labor involved in creating an object from an idea. The end result can be very satisfying. However, it is the activity and struggle throughout the process that is inspiring. Experiencing an idea becoming a real object that started in your head and your hands built is a measure of the accountability of your life.
The lack of rules and insured success combined with the endless solutions to the same problem motivates him to continue pursuing his interests. Making art is no more or less than having faith in what is unknown and having the desire to take the opportunity to create something you find difficult to explain.
Keywords
PRIME, interdisciplinary, research
COinS